Today is one of those random days. Just woke up and decided to go out and see what the rest of the world is up to, you know, cause I spend a lot of my days on this platform mostly in my compound. Sometimes it can get very boring and demotivating to get anything done. Especially when the energy is abit low, just like the Steem price is currently 😀
Anyways, I am just from Maasai Market here in the City Center, Nairobi. Yes, Again! What can I say, when I like something I really do. Today, I wasn't in much mood to capture anything to be honest. This thought did come across this morning on my usual curation shenanigans for the @gtg account. I came across this post by @dswigle about Market Friday's and decided to head out to create some content. It may not be Friday @dswigle, but it sure was a great concept for me to delve into this Weekend. Seeing that today is Saturday, it fitted right in with the Weekly Maasai Market in my City.
This Market is dedicated to selling and showcasing commodities from one of Kenya's most Authentic and long preservers of their culture- The Maasai. While I may have shared a little too much on this before, it is always a great experience at this market. I not only find different, unique stuff everytime I visit here, but also rejuvenate my creativity and motivation to keep on creating. Today was not any different.
These are traditional African drums. While most may not use them anymore due to the advancement in technology and all, they Maasai still use them in their day to day life. Like for church or other communal ceremonies. The modernized lot mostly improvise them for home decor.
I also came across this Animal printed Key Holders, not really something I would personally buy, but tourists seem to love such things a lot.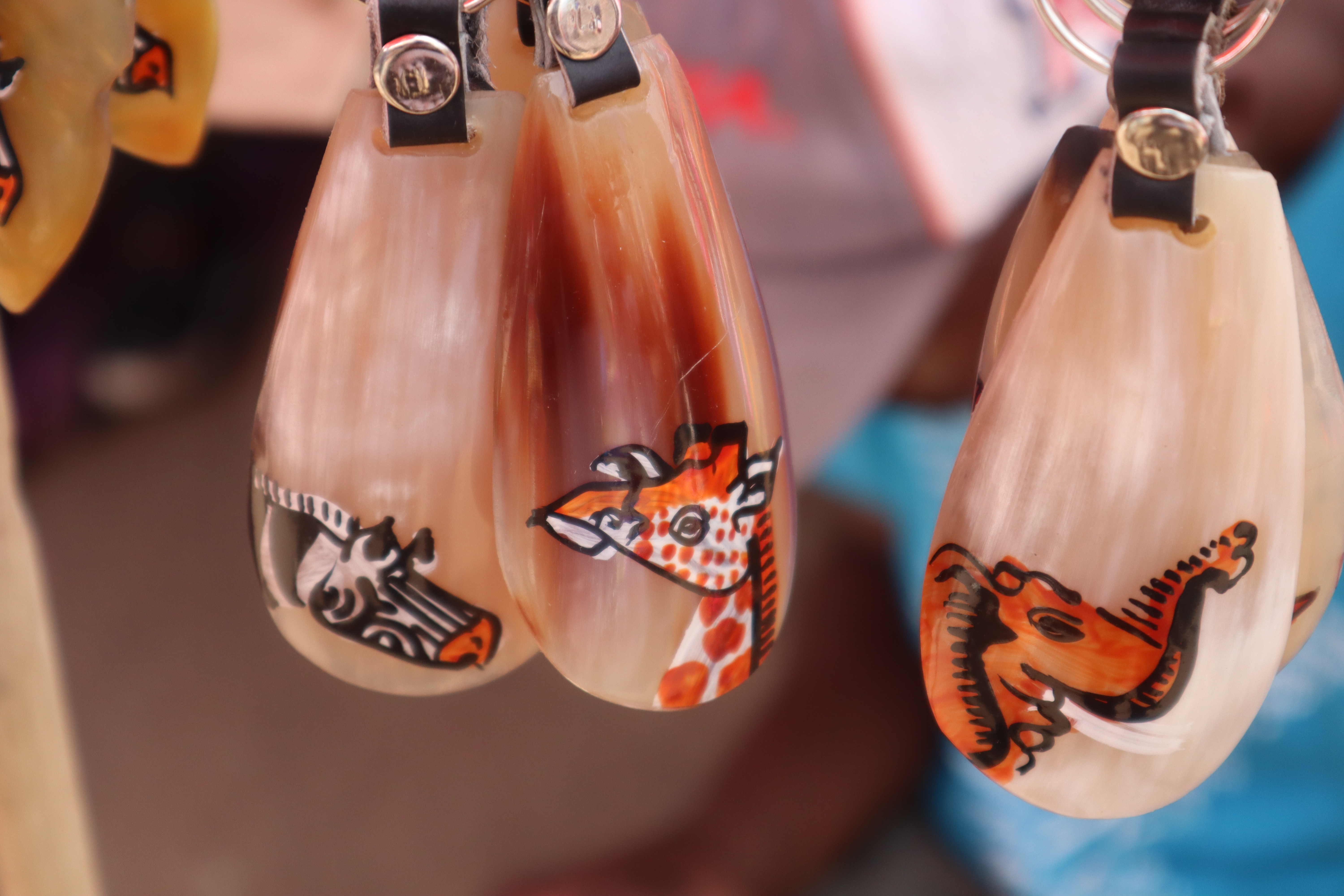 There were also thse very colorful hand wooven handbags. On Sunday's you can spot a lot of women carrying those.
Here's a few more shots from the Market..
These next are traditional Maasai Women working on their beaded ornaments. The do Such a great job. Maasai's Culture is symbolized by a lot of jewelry and very colorful ones for that matter.
Here's some of what they make. Mostly work on your head, neck, arms, legs and waist. The also have belts and rings etc
Some necklaces look like this. Of Course they come in different shapes and sizes. Also, if you are really patient, they can so customized orders. You know, like if you prefer to have your name or a loved one's name written on them. I got one of those today 😉
Some of the belts I'm talking about..
Some of the cloth stalls. This are not Maasai Outfits, but they are very popular around here. They are called Dira.
Believe it or not, these are chairs/sits. I am not very sure I'd be comfortable sitting on them, but they'd be cool to go to the beach with. Assuming they are fold-able 😀
YEP. They are.
Some more wood carvings. This are like salad bowls or soup bowls depending on how you prefer to use them. Some prefer to use them as fruit baskets too.
This is where it gets interesting. The horns are traditional cups. Mostly they are used by elders to drink local brew and in the case of the Maasai, to drink milk in. The artists in this market have also found a way to reduce them to salt shakers or pepper shakers for those who prefer it so. And some small bowls too.
You could use this little baskets to store jewelry or anything else you see fit. How cute?
More Bags and Bead Work//
Let's call it a blog shall we? 🙂 I have to get home. Been sitting in this cafe sipping coffee as I create this post. Now have to go home. But I should quickly mention, I have a lot more from today's market escapade so you can look out for that. Tomorrow I will cover more jewelry and mostly art pieces. Trust me, it's not something you want to miss!
As alway, thank you for Stopping by. And if you enjoy this kind of content, be sure to check and follow my personal blog for future and previous posts.